Mütter Mayhem: What's Happening at the Museum?
Disclaimer: All opinions held in this piece are my own. I do not claim to reflect the opinions of any individual or organization, including the Mütter, mentioned herein. This piece is cross-posted from my Substack newsletter, Musings of a Bookish Historian.
Introduction
The title of a recent September article from Philadelphia Magazine author Malcolm Burnley called "What the Hell is Happening With the Mütter Museum?" offers a succinct summary of the chaos occurring at a Philly cultural heritage icon. Recently, I shared a brief note about the American Museum of Natural History's decision to remove human remains from view, take a closer look at their collection and ethical practices, and contextualize the remains with greater transparency.
I made a passing comment about the Mütter Museum in Philadelphia, an institution dedicated to medical history. It's well known for its collections of human remains, medical instruments, and medical oddities such as slides of Einstein's brain, the Soap Lady, and a collection of human skulls used to disprove the horrifically-flawed and scientifically-debunked concept of phrenology.
It turns out, there's a whole lot going on that I wasn't aware of. And I went down a rabbit hole to learn more.
A Change of Leadership Means Rocking Boats at the Mütter
It began when I saw a post on Instagram from the Mütter about a town hall. Out of curiosity, I browsed the comments section and noticed some grumbling about the canceling of an annual Halloween event and a museum rebrand. In digging further, I discovered a whole slew of changes have occurred at the Mütter besides just the event cancellation.
In September 2022, the Mütter underwent a change in management. Kate Quinn, formerly of the Michener Art Museum and the Penn Museum, became the Mütter's executive director. A change in leadership anywhere often precipitates some boat-rocking. At the Mütter, however, Quinn's ascension to the helm has members, former staff, and fans concerned that she's embarking on decisions contrary to the museum's mission to "[help] the public understand the mysteries and beauty of the human body and to appreciate the history of diagnosis and treatment of disease".
So, what's been happening? In short, the museum removed all of their online collections as well as canceled some popular events as part of efforts to reshape their brand from one centered on celebrating the human condition, embracing mortality, and educating the public to something more "sanitized", as I've seen one article say.
Event Cancelations
Earlier in 2023, the museum canceled their popular "Mischief at the Mütter" event because that celebrated death too much…on a holiday known for celebrating the morbid, the dead, and the spooky. Instead, Quinn claims to want to focus on "health and well-being, not death."1Note, this link probably hides behind a paywall. Some internal discussion, supposedly with employee input, centered on the ethics of hosting such an event given the ethical concerns of displaying human remains. However, according to The Philadelphia Inquirer:
At the July [2023] meeting, the events team informed staff of restrictions that would be in place if they chose to throw the party, like prohibiting Halloween decor featuring skulls or skeletons. "Because of that, staff decided that it was not worth doing," said [a] staffer who attended the meeting [and who spoke to The Inquirer on condition on anonymity].

"If we were to do a Halloween party, it would not be allowed to be called 'Mischief," the museum would not be open, and it would not be allowed to have any direct affiliation with the museum," the staffer said. "They didn't want to say to us, 'Mischief is canceled,' but they effectively made it clear to us that Mischief would not be able to happen in the way that it had happened and would be unrecognizable."

Rosa Cartagena and Rita Giordano, "Mischief at the Mütter is canceled," The Philadelphia Inquirer, September 27, 2023, https://www.inquirer.com/arts/mutter-museum-halloween-mischief-canceled-20230927.html.
"Mischief at the Mütter" served as a key fundraiser and has been replaced with a different event to be held in spring 2024. Some have said, however, that such a re-evaluation isn't necessarily a bad thing as the party tended to turn rowdy. This is a fair criticism, to be sure, especially since the protection of and respect to the collections should be paramount.
More recently, the Mütter replaced their vendor marketplace called Dr. Mütter's Merry Emporium. This email went out to Emporium vendors, shared by my friends over at Protect the Mütter: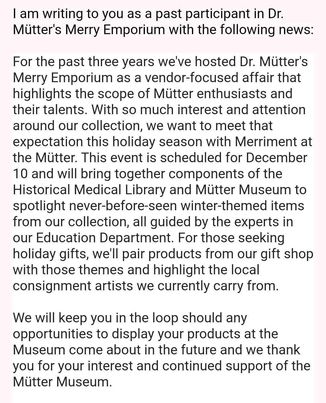 "For those seeking holiday gifts, we'll pair products from our gift shop with those themes and highlight the local consignment artists we currently carry from." Or, in Common, "we are allowing you to purchase carefully curated products from vendors we have already vetted and from whom we already purchased products at a wholesale rate and/or from whom we receive a commission or fee".
Canceling this event removes a source of revenue for these vendors and small businesses. It also sadly destroys the sense of community facilitated by the museum in the past through their events.
Removal of Online Content
In May 2023, the Mütter also scrubbed their online presence and removed content from their YouTube channel and online collections. Philly Mag wrote that "The controversy began in January, when ProPublica published a national investigation into organizations holding human remains of Indigenous people that hadn't been made available for repatriation."2Malcolm Burnley, "What the Hell Is Happening With the Mütter Museum?", Philly Mag, September 23, 2023, https://www.phillymag.com/news/2023/09/23/mutter-museum-ethics-controversy/.
A review process is currently undergoing, with input from a "group of experts". The museum released a statement on their website on May 12, 2023, indicating that the decision to remove the content was to "improve the visitor experience while remaining true to the ethical and respectful display of human remains".
We are aware that the decision to temporarily limit and review videos from the Mütter site has created concerns among some Museum supporters. These concerns, especially those about accessibility, are being taken very seriously. Our goal is to improve the visitor experience, while remaining true to the ethical and respectful display of human remains. This review is a critical step to help us get there. We hear you. In the coming months, we will host a series of discussions about our future and encourage you to participate and share your ideas. We deeply appreciate your passion for the Mütter and look forward to hearing more from you.

"Mütter Statement", The Mütter Museum, https://muttermuseum.org/mutter-matters/mutter-statement-may-12-2023.
Museum fans have lamented this decision, as explained in a PBS article about the content removal. People have personal connections to this museum and are able to learn about the human body in an authentic and unpretentious way. Additionally, online collections allow people from all over the world to access the items when time, distance, or other considerations prevent them from visiting.
One thinks that the content moderation, review, and removal would not have created such a splash with proper communication and a systematic process. Instead, the Mütter's approach proved disruptive and abrupt at best without any input from its passionate community.
What about Ethics?
First and foremost, ethics should always guide museum principles and decisions, especially in regard to human remains. Given the larger conversation happening in the museum field surrounding human remains, that the Mütter addresses it and works to review their collections is admirable in itself. Indeed, it has repatriated human remains in the past.
Eighteenth, nineteenth, and twentieth-century collection practices and expeditions resulted in the destruction of heritage and cultural sites and the complete disregard of marginalized populations, all in the name of research and progress. Coming to terms with that remains a key issue for museums, libraries, galleries, and archives to this day and involves painful conversations with affected populations and genuine efforts to repatriate remains and artifacts and/or further contextualization.
But those efforts should require a systematic and conscience approach involving members of the local and larger communities. The Mütter, however, has seemingly taken a knee-jerk approach, and, as a result, alienated its community.
It's clear that the lack of transparency, abrupt decisions without community input, loss of staff, and more have characterized the Mütter's change in administration. It remains to be seen how Quinn's tenure at the Mütter's helm bodes well for the museum as a whole. They are currently holding listening sessions so perhaps they will take community feedback into consideration, but that remains to be seen. I highly recommend looking at their responses to various publications and read their own reactive responses.
What Can Be Done? How Can You Help the Mütter?
I speak on the Mütter chaos as both a museum fan, a Pennsylvania local, and a concerned professional. My own educational background lies in public history and archives, and I've interned and volunteered at museums such as the Waukesha County Museum, the Milwaukee County Historical Society, and the Boston City Archives. Admittedly I am removed from the field on a professional level, but that doesn't mean I don't stay informed.
And, others feel similarly to me. Protect the Mütter is a group dedicated to "preserving the integrity and the mission of the Mütter Museum". Protect the Mütter has done an amazing job of advocating for the museum, raising awareness of what's been happening at the Mütter, and trying to hold the Quinn administration accountable.
If you want to become involved, here's how you can help and/or stay informed:
Sign the Protect the Mütter Change.org petition (which has over 35,000 signatures!
Sign up for their newsletter
Follow Protect the Mütter on social media
Featured image: The College of Physicians of Philadelphia, the home of the Mütter, in 1909. From Henry Norman's College of Physicians of Philadelphia, public domain.